Supporting our commitment to be a leader in the development and operation of best-in-class, energy efficient, low-carbon buildings, in Q4 2021 Oxford announced a €200 million master-planned redevelopment of The Center Potsdamer Platz ('The Center'), a famed Berlin destination. Formerly known as the Sony Center, The Center's ongoing redevelopment will futureproof the office-led, mixed-use campus with leading-edge amenities, design and sustainability features. Its ambitious vision, which aims to reduce the energy intensity of the site by ~50% in the next five years, attracted Norges Bank Investment Management to join the project as a 50% capital partner in a €677 million deal (Q2 2022).
A multi-stage project, with all public facing elements and major construction set for completion by 2024, The Center's grand re-opening will feature the unveiling of its new long-term name. With its new, to be unveiled name set to reflect a repositioning as Berlin's most inspiring office campus destination, the redevelopment will optimize over 530,000 square feet of office for health and wellbeing, create a world-class retail destination with diverse mix of local and global culinary offerings, reimagine the public realm beneath its picturesque skylight dome, and transform the site into a hub for wellness and activity.
With the project in full swing, we asked Jay Drexler,VP, Office, Retail & Life Sciences and Anneke Hassenritter, Senior Marketing & Communications Manager, for an update on the redevelopment and insight into Oxford's overall vision for the project.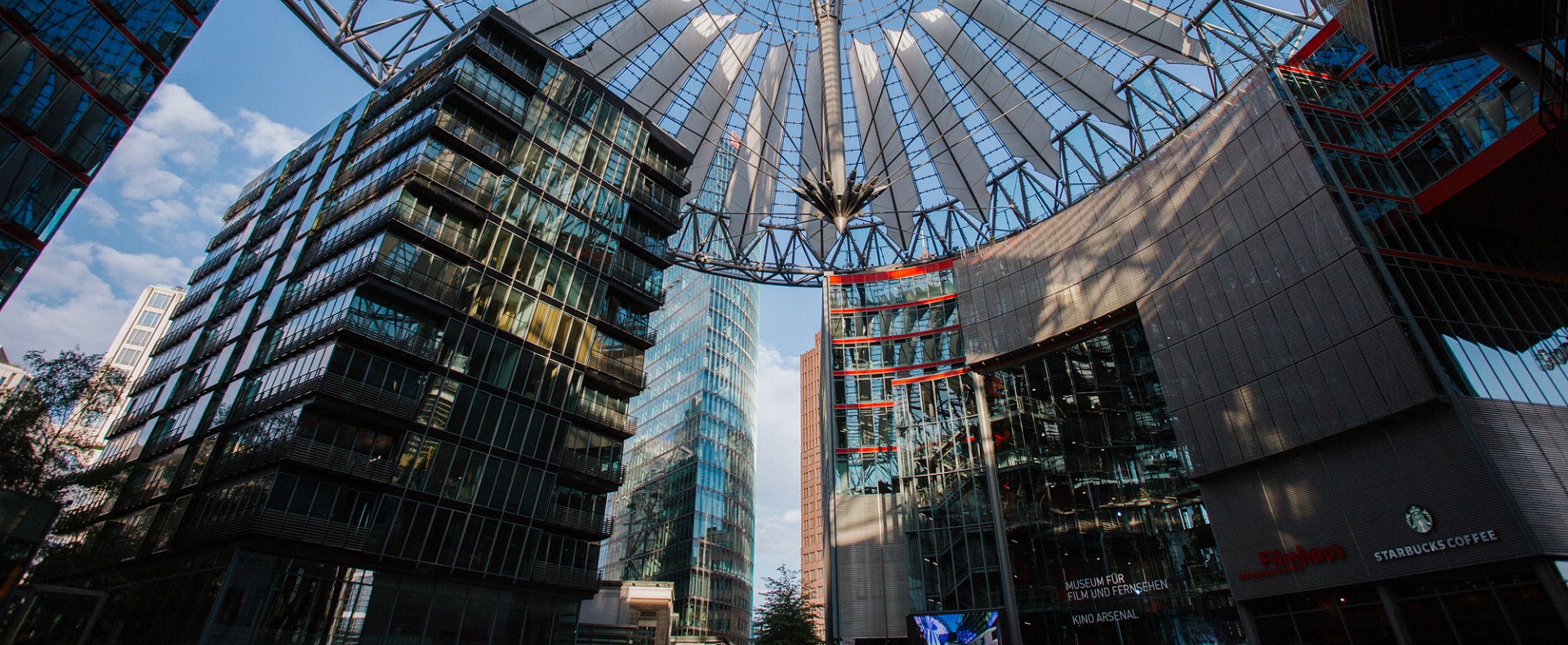 The Center Potsdamer Platz and its famed skylight dome
Q: What is Oxford looking to achieve through the redevelopment?
Jay Drexler: Berlin is a place people want to be and it continues to be a hub for talent from across Europe and beyond. At the completion of the redevelopment, The Center will be a world-class office campus that delivers on the highest-standards and evolving needs of Berlin's growing talent pool.
Located at the heart of Potsdamer Platz, The Center is a true Berlin landmark—attracting over 7 million visitors annually. Our redevelopment plans acknowledge that cultural importance, respecting the iconic architecture while reimagining the campus to engage both locals and visitors in one ecosystem.
Q: What role does decarbonization play in the project?
JD: Oxford has a longstanding commitment to sustainability and decarbonization. In 2015, Oxford set a goal to reduce our carbon footprint 30% by 2025. By 2021, we successfully reduced our carbon intensity by 37% from our 2015 benchmark, exceeding our target ahead of schedule.
Aligned with this commitment, decarbonization is at the forefront of what we're aiming to achieve. We have a very clear capital plan and strategy to reduce the asset's energy intensity by approximately 50% over the next five years. Ultimately, we'll continue to implement corrective measures that bring it in line with the Paris Agreement over a sustained, long-term basis.
Anneke Hasenritter: As the long-term redevelopment of The Center Potsdamer Platz continues, we've already made tangible progress towards our sustainability goals. In Q4 2022, the German Sustainable Building Council (DGNB) awarded The Center with its DGNB platinum certification for building sustainability—its highest award level.
The award established the asset as the first building worldwide to successively progress through all DGNB certification levels (bronze, silver, gold, platinum), emphasizing Oxford's continuous drive towards sustainability excellence.

Newly opened restaurant Frederick's at The Center
Q: What are some of the highlights of the ongoing redevelopment?
JD: On the culinary side, construction is ongoing in the former IMAX cinema, which will be the new home of London-based food incubator KERB's first overseas location. KERB Berlin will span about 24,000 square feet, hosting 12 independent food vendors and four bars. We've also reached an agreement with Pret A Manger to bring their first full concept location in Germany to the site.
In addition, we've officially opened high-end gastropub Frederick's and its artisanal lunchtime offering The Deli after completing the redevelopment of The Center's historic Emperor's Hall.
AH: A highlight across numerous redesigned outdoor areas is the opening of the Nike Experience Hub—an outdoor fitness area, offering free fitness classes led by Nike coaches five times per week.
We had a vision for the The Center as a place for health and wellbeing, and we wanted to facilitate that not just for our office customers, but for the wider community. This led us to partner with Nike who possess a very similar focus, and from this shared vision for fitness and community grew the Experience Hub.
JD: The Nike Experience Hub embodies our placemaking strategy at its core. Effectively, we're inviting the neighbourhood to take part in daily activations, encouraging the community to connect and use the space. We're not looking at you as a direct income stream, we're looking for participation and genuine activation. This approach leads to an organic calendar of events and more people using the space, which brings it to life.

The vision for The Center's central forum, featuring a redeveloped food hall and outdoor fitness area
Q: What do you want people to take away from the project?
JD: We want the The Center Potsdamer Platz to be the best office complex, in one of the best cities in the world. We want to bring everyone together—culturally, socially, and commercially—under one roof and create a place not only for people to work, but also a place to shop and play.