Real estate investors, fund and asset managers, developers and strategic partners gathered in New York to discuss current investment trends, the ongoing volatility in capital markets, and what's next for North American real estate markets.
Here are the actionable insights and new opportunities that emerged.
1. A new era of monetary policy
How do you navigate risks that arise from an inflationary and rising interest rate environment? During his fireside address, Oxford's President Michael Turner stressed the importance of having started early to position your business for today's environment.
"You have to ask yourself, what more could you have done to prepare yourself for this point? If you start trying to position your business at the moment, it's going to be a bit difficult. For us, it was important to get our capital into areas where we saw above-average earnings growth potential. Life sciences, warehousing, and residential are all good examples of that."
In an increasingly competitive Q3 and Q4 of 2021, Oxford saw the opportunity to sell assets to rotate capital into other sectors. "We sold a lot of real estate into 2021, and we completed about 78% of our dispositions that we had planned for 2022 by March," Turner commented. "As we sold real estate equity, we redeployed that in the spring and summer putting about US$2 billion of capital to work in credit. Today we feel like our portfolio is in a good position in terms of our sector weighting. We'll be able to benefit from rising rates on our credit book."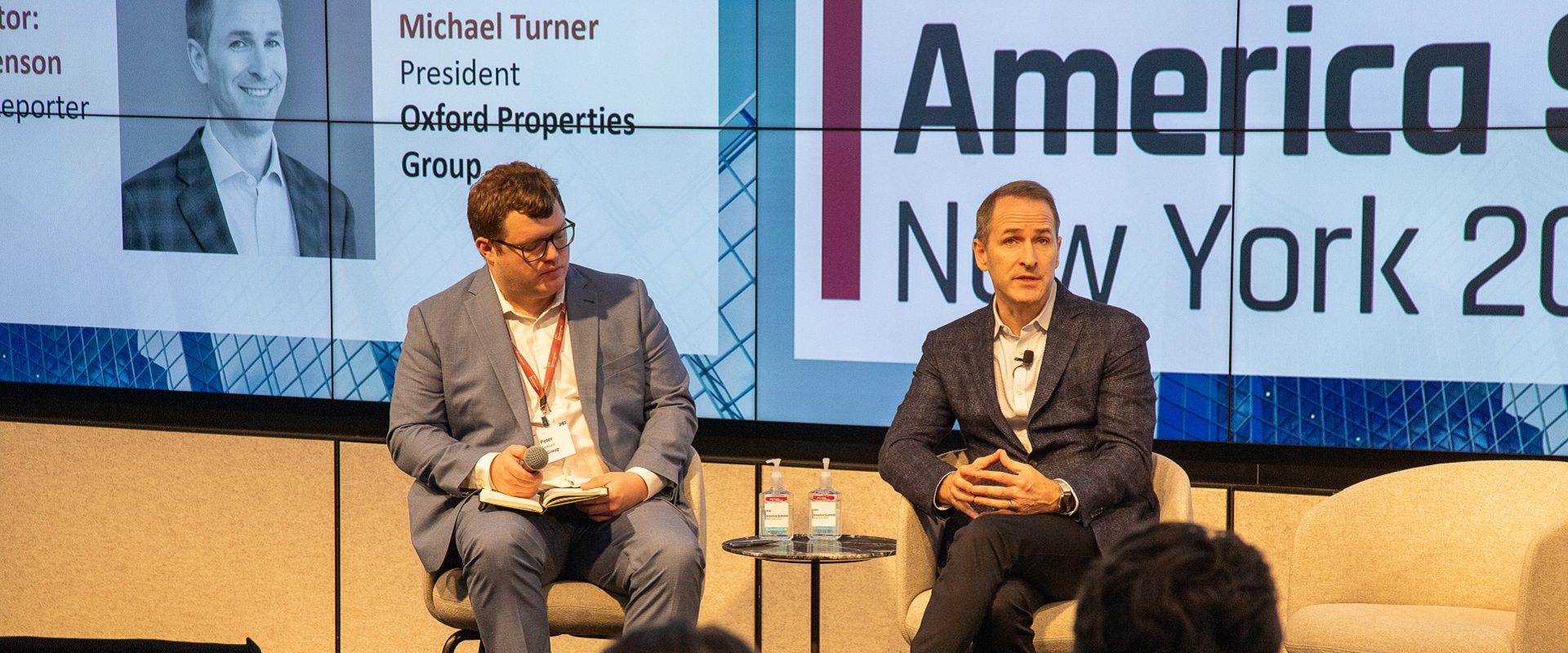 Oxford President Michael Turner (right) at the PERE America Summit
2. ESG has to be a priority
There was a consensus from a multitude of speakers that the North American market lags Europe in terms of ESG efforts. The outcome was ESG needs to become a part of organizational DNA. Instead of a last thought coming from the ESG department, it needs to be baked in from the beginning as a consideration from the investment team.
ESG is not a buzz term to help a company's reputations, instead investors and managers need to adopt a mindset of carbon reduction through developing and operating energy efficient, low-carbon buildings. Jessica Long, Senior Director, Head of Sustainability at Nuveen, North America, predicted that real estate companies who can't provide sustainable space will soon not be a viable option for most occupiers.
3. Life sciences goes beyond the pandemic
Over the last two years, Life sciences has seen tremendous growth. The accelerated need for vaccines strengthened the sector's importance in the market, but it's not going anywhere as we navigate past the pandemic. During the Sectors Track panel, Oxford's Director of Investments US, Christie Chen shared "Life sciences is not a trend, it's a long-term sector that is attracting a lot of institutional capital." With an aging global population and governments investing heavily to meet the needs of their citizens, there is demand for quality infrastructure.
She explained to the audience that the highly specific, technical demands for the space make it unlike any other type of real estate. "You cannot separate the needs of the customer from the infrastructure, they are intrinsically linked. Our customers' labs are tools to deliver life-changing therapeutics. The real estate players that will succeed are those who can plan with their customers to offer space that help companies scale and grow."
4. Niche thinking
The recurring question asked across the summit was "What are new opportunities for investors?" Speakers on the Logistics Sectors Track panel briefly parked the topic of industrial and supply chain to speak to niche investing. Student housing, medical offices, and carwashes were discussed as opportunities for experienced investors who can bring their expertise to new sectors.
Pratik Patel, Managing Director at Wafra highlighted that the many niche real estate sectors lack dominant players, leaving a more open playing field for those with conviction to be creative and innovative. He shared how Wafra identified highly fragmented segments of the real estate market and began investing in marinas, carwashes, and other ultra-niche asset classes. "When we entered the marina business, the largest owner had 2% of the market." A sector that was predominately owned by independent 'mom and pops' created room for investors.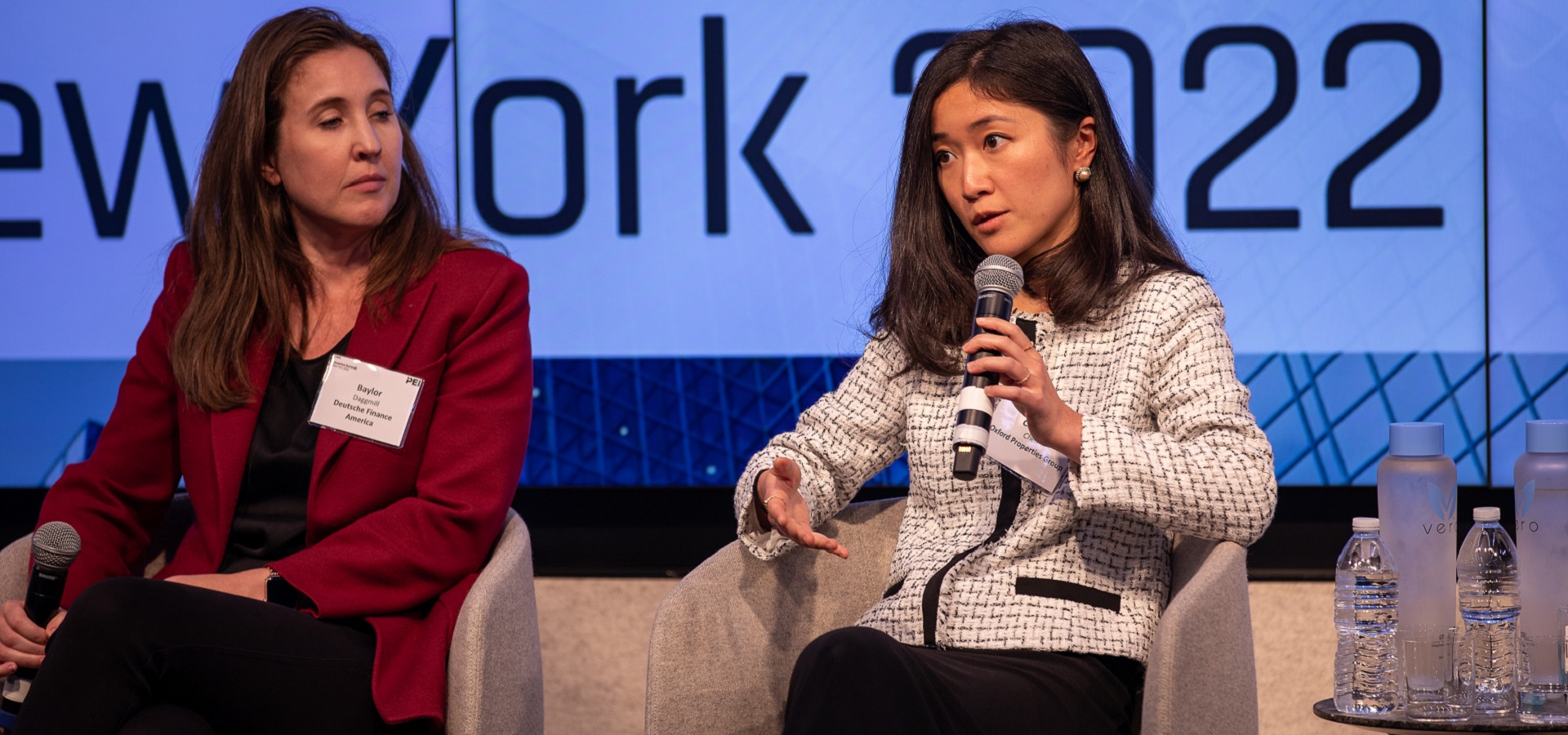 (Right): Christie Chen, Director, Investments at Oxford Properties