NEW YORK -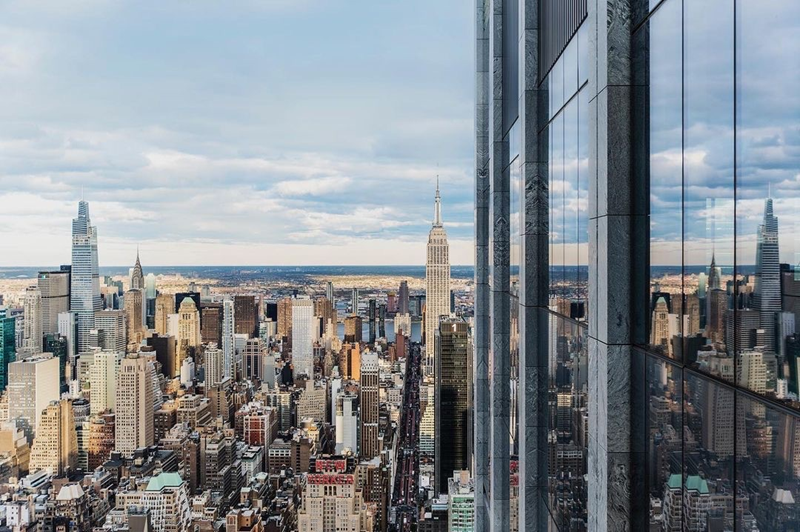 Today Fifty Hudson Yards officially opened with over 84% leased pre-opening. The nearly 3M square foot modern landmark designed by Foster + Partners has become a symbol of the city's office resurgence. Related Companies, Mitsui Fudosan America and Oxford Properties Group hosted a celebration to welcome the leading financial and technology companies that will soon call Fifty Hudson Yards home, including BlackRock, Meta, Vista Equity Partners, Truist Financial, ServiceNow, Passkey and XTX Markets. They were joined by New York City Mayor Eric Adams. First move-ins will begin later this year.
Designed as multiple buildings within a building, Fifty Hudson Yards combines the rarified service of a boutique luxury office building with vast, column-free floorplates, high ceilings and sweeping skyline and river views, for an employee experience unlike any other.
"The opening of 50 Hudson Yards marks another major milestone in New York City's continued economic recovery," said New York City Mayor Eric Adams. "With some of the biggest investors in the world leasing space in this building, these business leaders are sending a clear message that they have confidence in the future of our city and want to expand their footprint in the greatest city in the world. Our administration will keep making investments in our homegrown workforce to ensure we continue to have the best talent, so we can attract and grow the companies and jobs of the future."
"Fifty Hudson Yards' growing tenant base of industry leaders reinforces that the office is back and better than ever," said Jeff T. Blau, CEO of Related Companies. "Great ideas are born from collaboration and every detail of this building has been carefully chosen to enrich the benefits of face-to-face interaction. Whether employees are meeting in a bespoke workspace, one of the building's many private lounges or restaurants, or taking in a neighboring world-class cultural institution, they are sure to find the inspiration that continues to cement New York City as a premier global center of innovation."
"Fifty Hudson Yards stands out as one of the finest office buildings in the world, offering the next generation of office space in the vibrant and exciting Hudson Yards community," said John Westerfield, CEO, Mitsui Fudosan America. "The column-free floors, state of the art building systems, floor-to-ceiling windows and spectacular views have already attracted many world-class companies as tenants. Together with our partnership with Related and Oxford on Fifty Five Hudson Yards, our substantial investment in Fifty Hudson Yards evidences Mitsui Fudosan's long-term commitment to New York City and Hudson Yards. With the project nearing full tenancy, we look forward to welcoming our new tenants and their employees to this remarkable building in the coming months."
"The purpose of the office has changed, and today the world's best workplaces are an experience that inspire employees, aids learning and mentorship and act as an extension of a company's brand. Fifty Hudson Yards achieves all of this and more," commented Michael Turner, President of Oxford Properties. "The early success of Fifty Hudson Yards backs our conviction that best-in-class offices which deliver exceptional experiences, employee wellness, and high sustainability will continue to outperform. We continue to see this dynamic play out in markets across our global business. Today is another proud moment in the ongoing evolution of Hudson Yards as a premier destination for New York's most innovative companies."
"From the start, we envisioned our new global headquarters as a destination that enhances the personal connectivity that is at the heart of our 'One BlackRock' culture," said Rob Goldstein, Chief Operating Officer of BlackRock. "This is the first time that all New York based employees will be under one roof, together, since the earliest days of BlackRock. Our new home in Hudson Yards provides a unique opportunity to bring together all of our capabilities, where we can better collaborate and most effectively serve our clients. We are incredibly proud to have our new home rooted in one of New York City's most vibrant neighborhoods."
The building will feature beloved New York City cultural and culinary institution Russ & Daughters. Additional dining destinations will be announced in the coming months, including plans to work with Chef Andrew Carmellini and NoHo Hospitality.
Designed by Foster + Partners, with interiors created in collaboration with Tony Ingrao, the LEED Gold-anticipated, 1,011-foot-tall, 2.9-million-gross-square-foot building exemplifies a classic understated New York exterior with a façade of hand-carved Italian granite interspersed between sweeping stretches of glass. Employees and guests are invited into a soaring two-level lobby linked by a distinctive spiral staircase that leads to a private bar and lounge on the mezzanine ideal for casual meetings, entertaining clients and taking in dramatic views of Hudson Yards' Public Square and Gardens. A communal amenity on the 32nd Floor features a variety of gathering spaces befitting the most luxurious hotels including private dining rooms, meeting and event space and café with grab-and-go options. Tenants can reserve these spaces for private engagements. Each customizable workplace floor features expansive interiors, able to accommodate 500+ employees in limitless configurations, designed to nurture creativity. The building's 94 high-speed elevators by TK Elevator, including the TWIN® system, ensure seamless movement around the building.
Norman Foster, Founder and Executive Chairman of Foster + Partners, said: "Our project is a response to the site within Hudson Yards, but its geometry also respects the wider context of the New York street grid. The innovative elevator strategy and unique space planning provide prime users of the tower with their own lobbies, exclusive access and separate identities. Column free floor plates and generous ceiling heights provide high quality workspaces with maximum flexibility for change in the future. A purpose-built tunnel connects the building directly to the subway while the lobby floors are connected by a delicate feature stair from which one can enjoy both views of Hudson Yards and the large-scale work of art by Frank Stella."
At the top of the building sits Upstairs at Fifty Hudson Yards, an exclusive service offering that introduces a new paradigm for office benefits directed by the building's dedicated concierge. Tenants have access to an exclusive suite of services and partnerships including Blade priority airport transfers, membership to the Classic Car Club Manhattan, enabling tenants to pick-up some of the most amazing automobiles ever built from the building's rare private porte-cochère, executive valet parking, membership to Liberty National Golf Course, access to the neighborhood's Mt. Sinai Health Center and childcare services from Vivvi.
Fifty Hudson Yards opened on schedule despite the unprecedented impact of the global pandemic. Prioritizing worker safety from the outset, it was also the second U.S. construction project to employ the Despe self-climbing cocoon, creating much needed perimeter exterior work space as the steel frame was erected.
"The opening of 50 Hudson Yards represents a milestone for commercial office construction in New York City and is one that would not have been possible without the hard work and dedication of the tradesmen and tradeswomen of the building and construction trades who worked on this project," said Gary LaBarbera, president of Building and Construction Trades Council of Greater New York. "We welcome the opportunity to work with the Hudson Yards team to build exceptional places and spaces that fuel New York's economic comeback."
The ground level lobby features two large-scale abstract sculptures by modern master Frank Stella. Made of painted steel, aluminum and fiberglass, the original artworks add color and fluidity of motion to the lobby, evoking the excitement and restless innovation of the City itself.
Located on a full block between Hudson Boulevard and Tenth Avenue, between 33rd and 34th Streets, the building offers direct access to the No. 7 Subway and is located minutes from the Air Pegasus Heliport, Midtown Ferry Terminal, Lincoln Tunnel and Moynihan Station.