Continuing our high conviction in logistics, Oxford's largest portfolio allocation, we are working with Logistics Capital Partners to develop the UK's largest logistics site – West Midlands Interchange (WMI). Upon completion the eight million square foot site will generate roughly £430M of local economic activity and over £900M of national growth each year through improvements to the UK's supply chain.
A project of this scale, capable of alleviating local undersupply and streamlining global supply chains, has inherent complexities. To better uncover the story, we caught up with two key figures on this project, Paul Holdsworth, Director Industrial and Logistics Investments and James Boadle, SVP Europe to share their thoughts on how we are overcoming this complexity to create value for multiple stakeholders.
The Opportunity
Big Picture: The shortage of logistics space in the UK reached historic lows in 2023 with a vacancy rate of 2.7%. A lack of available zoned and well-located land persists through the area exacerbating undersupply. WMI is located within the UK's key logistics hub, the Golden Triangle, and provides the opportunity to deliver a site of scale in a high demand, low supply sub-market.
Paul Holdsworth: The deal was not straightforward and one we executed through the lockdown as an added challenge. We were working from home learning how to adapt to new ways of working and the team is working on a deal that, like the times, was unprecedented. We were building models and underwriting at home, meeting our partners at LCP through a lockdown and building deep trust. The pandemic accelerated new ways of shopping bringing an added boom to e-commerce creating even more demand for sites like WMI to facilitate delivery. Knowing demand was only growing as supply stood still, we continued to push on with our intensive due-diligence processes, in pursuit of a business plan forecasted to generate compelling risk-adjusted return for Oxford and OMERS.
E-commerce sales are expected to continue to grow 10.4% in 2023. Events like Amazon Prime Day have the power to move markets – with July 2023's Prime Day being the single largest sales day in Amazon's history.
Our Solution: Proximity and Capacity
James Boadle: In a world of ever greater uncertainty, proximity allows supply chains to be more agile, robust, affordable, and sustainable. West Midlands Interchange sits in close proximity to pivotal transit nodes: the West Coast Mainline, the M6 Motorway, and major sea and airports. This enables 88% of the UK population to be serviced within a four-hour drive of the scheme. We are developing a new Strategic Rail Freight interchange to add transportation capacity, along with reducing road congestion and carbon emissions from the UKs road network, with WMI to become a major contributor to the UK's supply chain infrastructure and a significant step towards the UK's carbon reduction ambitions.
PH: Rail freight produces 70% less carbon dioxide than road freight with the added benefit of reducing overall road traffic. A single freight train can remove as many as 76 HGVs from the road so our new intermodal rail freight exchange has the potential to remove hundreds of trucks from the nation's road network every single day. The streamlined nature of the facility unlocks carbon reduction laddering into our overarching goal to climate-proof our portfolio, achieving net zero carbon emissions by 2050.
The Local Impact
JB: Oxford has invested over £8 billion in the UK over the past 15 years, delivering homes, workplaces, labs and, of course, logistics infrastructure. We are particularly passionate about the positive community, social and environmental impact this project will have. It goes to the heart of Oxford; an investment philosophy built on delivering for the 560,000 pension plan members who directly rely on OMERS to positively impact their lives and their communities, a philosophy which we export around the world. Our environmental ambitions for this project are huge and non-negotiable, and are set to create a park of unrivalled environmental standards which we believe will be critical to the success of the scheme. The project is estimated to generate in excess of £430m of local economic activity every single year, and in excess of £900m nationally, and throughout our ownership of the project we continue to engage and listen to the many local and regional stakeholders who are impacted by WMI.
PH: Ecological studies were conducted throughout our planning process to protect existing plant and wildlife and where possible, enhance it. The Forestry Commission identified an endangered subspecies of the Black Poplar tree on our site. We have now commissioned a project to help repopulate seedlings across three areas of the site. Our development plan at WMI also includes the designation of two community parks, across over 100 acres of the site.
Extending beyond the site itself, the economic power of WMI is estimated to create more than 8,500 new jobs for those in the West Midlands. We're excited to bring global supply chain efficiencies with a lasting local impact as well. To help ensure that as many of these opportunities are fulfilled by locals, we are also creating a WMI Employment Fund, which will see us commit £1.7m to support the upskilling and employment of local people.
The Takeaway
JB: Our long-term approach and resolute commitment to the scheme allows Oxford to deploy capital in front of a high conviction thesis and create value over the long-term, not just for OMERS, but also for the local and national economies, the communities and the environments in which we invest. What we are set to achieve at WMI truly speaks for itself and we are excited about the lasting legacy we hope to create.
Groundbreaking and development for this project has begun, follow along as we continue this exciting project and learn more here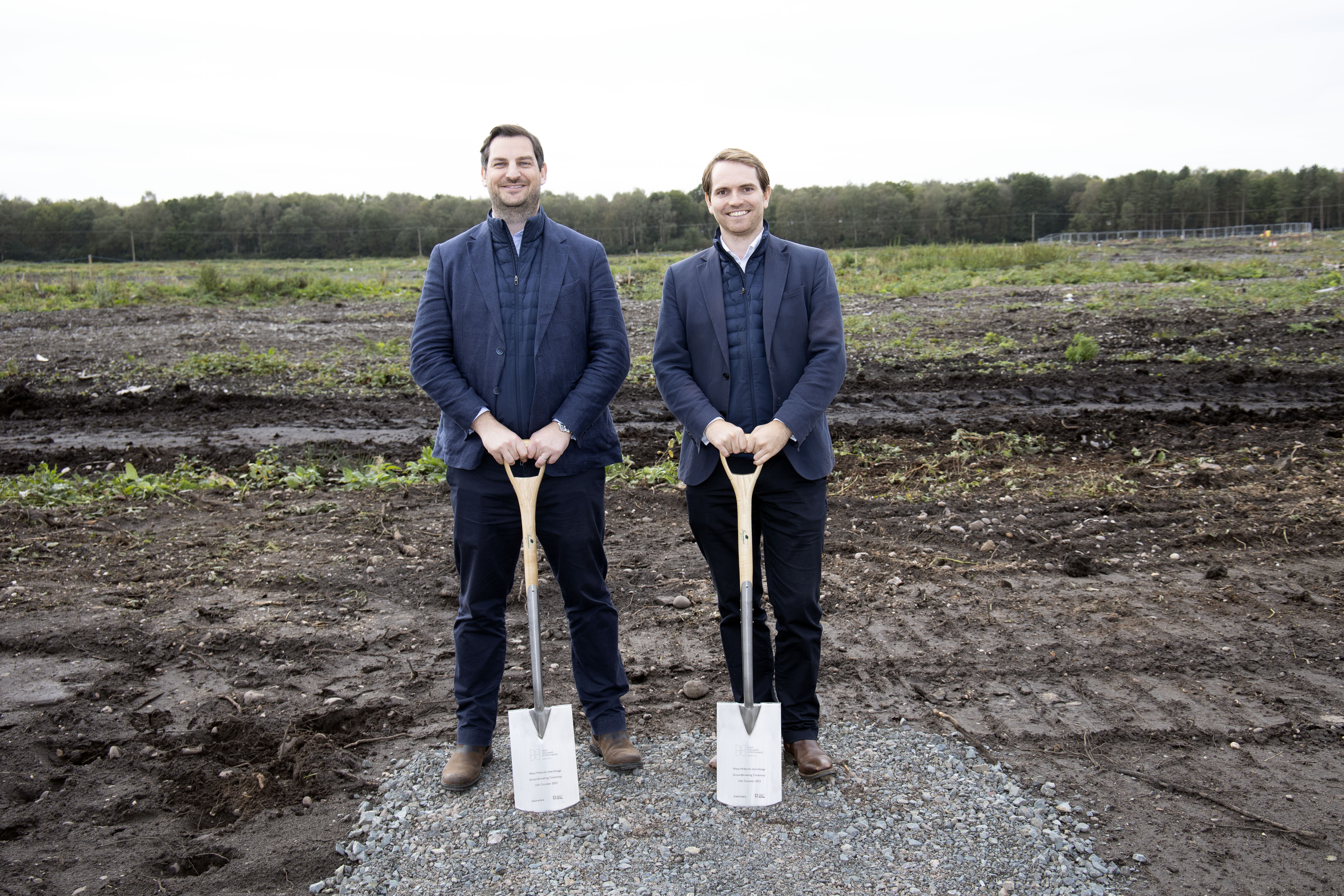 James Boadle (left) and Paul Holdsworth (right) pictured at WMI's groundbreaking